Rakhi Return Gifts: Unique Ideas to Surprise Your Sister
Finding the perfect return gift in Shagun for your sister on Rakhi is a wonderful way to show your love and appreciation. It's an opportunity to surprise her and make her feel special. However, picking the ideal gift is not an easy feat.
In this article, together we will explore unique ideas for Rakhi return gifts that are sure to bring a smile to your sister's face. From beautiful items to thoughtful keepsakes, we have got you covered. So, let's dive in and discover some amazing gift options!
Why do we give return gifts to our loved ones?
Rakhi celebrates the bond and love between brothers and sisters. While sisters shower their brothers with the sacred rakhi thread and sweets, it is customary for brothers to give return gifts to their sisters as a token of love and appreciation. 
Rakhi return gifts hold special significance as well as symbolize the brother's gratitude for his sister's love and prayers. It's an opportunity to reciprocate the affection and make the bond stronger.
6 Unique Return Gifts for this Rakhi
While chocolates, apparel, bags etc are common gifts, here are 6 unique things to shop for your beloved sister…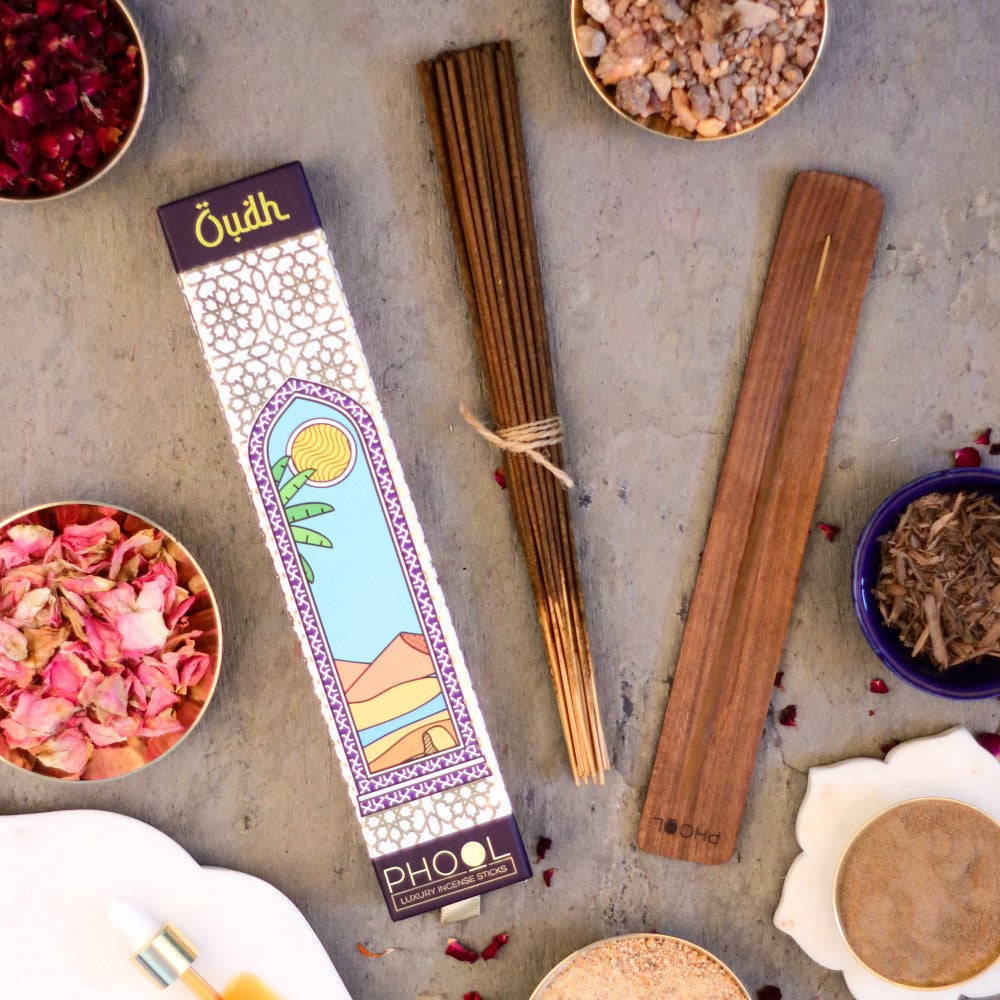 Phool's Incense Sticks and Cones collection is an excellent choice for a Rakhi return gift. These hand-rolled sticks and cones are made from temple-ridden flowers blended with organic ingredients. All our products are all-natural incense sticks that emit non-toxic fumes and longer burn hours. 
These incense come in a variety of captivating fragrances, mild refreshing ones from jasmine to lavender, to a wide variety of citrusy aromas like orange and lemongrass.
Phool Incense is made by marginalized Indian women, providing them with sustainable livelihoods. By gifting your sister Phool Incense, you not only bring an enchanting aroma to her home but also support a noble cause.
Pamper your sister with the gift of essential oils. These concentrated plant extracts offer a range of therapeutic benefits and can be used for aromatherapy, massage, skincare, and more. Whether she enjoys relaxing lavender, invigorating lemon, or exotic scents like white cedar and rosemary, there's an essential oil to suit every preference. Your sister will appreciate the thoughtfulness behind this unique gift, as it allows her to create a spa-like experience in the comfort of her own home. 
At Phool, all essential oil ingredients are organically sourced from small farmer families and the oils have been developed based on many years of aromatherapy research. They are Ecocert certified, vegan and organic.
Candles
: Illuminating Love
Candles make for charming and versatile gifts that never go out of style. They create a warm and cosy ambience and can be used on various occasions. Surprise your sister with an assortment of scented candles in different shapes, sizes, and colours. Whether she prefers a soothing mountain aura, refreshing valley breeze, or the enigmatic cosmos ambience, candles will surely light up her heart and remind her of the love you share.
At Phool, you can grab 100% non-toxic, and vegan soy candles. These are much better than the toxic paraffin candles available in the market which can be extremely harmful to your health and cause allergies as well. 
Gift Box
: A Treasure Trove of Surprises
Phool Rakhi Gift Box For Your Sister is the most exciting gift you can give to her in Shagun!
The relationship we share with our sisters is often filled with warmth, companionship and comfort. They have an uncanny ability to understand our thoughts and feelings which makes keeping secrets from them almost impossible. Most importantly, sisters create a sense of belonging for us, offering a safe space to confide in and seek solace. They deserve nothing less than the best, so this Rakhi, surprise your sisters with the ultimate 
Phool Rakhi Gift Box is a collection of 7 exciting products, curated specially for her. 
This gift boxes include:
Face wash from Juicy Chemistry that will leave her skin feeling fresh, supple and healthy. 

Bambooless Incense Sticks

: Part of our latest product collection, Bambooless Incense Sticks are 3.5x thicker, long-lasting and an ideal way to make your home smell lovely and aromatic.

Thela Gaadi Socks: These are the cutest pair of socks your sister will ever receive. They come in a quirky pattern, are ankle-length, unisex, free-size, made from 100% pure cotton and are so comfortable that she will want to wear them every day.

Phool Foot Soak: One pack of foot soaks (100 gms) infused with organic extracts of frankincense & lavender. This foot soak is the most relaxing cure for her tired & sore feet after a long working day.

Eat Better Jar: Yummy and healthy, this will definitely be the first thing she reaches out for when she wants a snack.

Vahdam Tea: Delicious and freshly harvested tea, straight from the Vahdam tea estates of Assam. It will make every morning worth waking up for.

Ras Gold Elixir: Loaded with Vitamin C, this face serum is made from pure botanical oils and brightens, repairs and nourishes the skin. This will reduce many steps of her skincare routine and make her life easier!
Feel free to check out Phool Gift Box Collection…
Home Decor
: For Visual Beauty Seeker
We all have a sister who has a thing for aesthetic decor and things that beautify spaces. While incense sticks and incense cones are a beautiful addition to brighten up cosy spaces, you can also go for impressive decor items. Such as light holders, ceramic incense holders, votives and oil burners. 
This Rakhi, offer your loved ones return gifts that express your love and gratitude towards them. The key is to choose something that reflects her personality and interests. Whether it's a personalized gift box, or unique items such as incense cones, havan cups or more, gifts that aim to make her feel cherished and appreciated. Explore the diverse options available at Phool and select a gift that will bring her joy