Raksha Bandhan with Phool: 5 Thoughtful Gift Ideas for Bhabhi
With Rakshabandhan around the corner, it's important to remember that the bond of love and protection extends beyond just brothers. The beloved bhabhi, a pillar of support and an integral part of the family deserves to be celebrated too. Phool is here to help you honour this cherished relationship with some beautiful Rakhi gift ideas that are sure to bring a smile to her face and warmth to her heart.
So, consider stepping up your gifting game with these exquisite and heartfelt gift ideas for your beloved Bhabhi…
Here are 5 Gifts from Phool
1. 
Lumba Rakhi
: A Symbol of Siblinghood
Lumba Rakhi, also known as Bhabhi Rakhi, is an embodiment of the beautiful bond that you share with your sisters-in-law. With its delicate design and intricate craftsmanship, the Lumba Rakhi is a token of love and respect that resonates deeply with the essence of this relationship. It serves as a stylish accessory and a heartfelt reminder of the cherished connection that has evolved over time.
Catch a glimpse of the Phool Lumba Rakhi…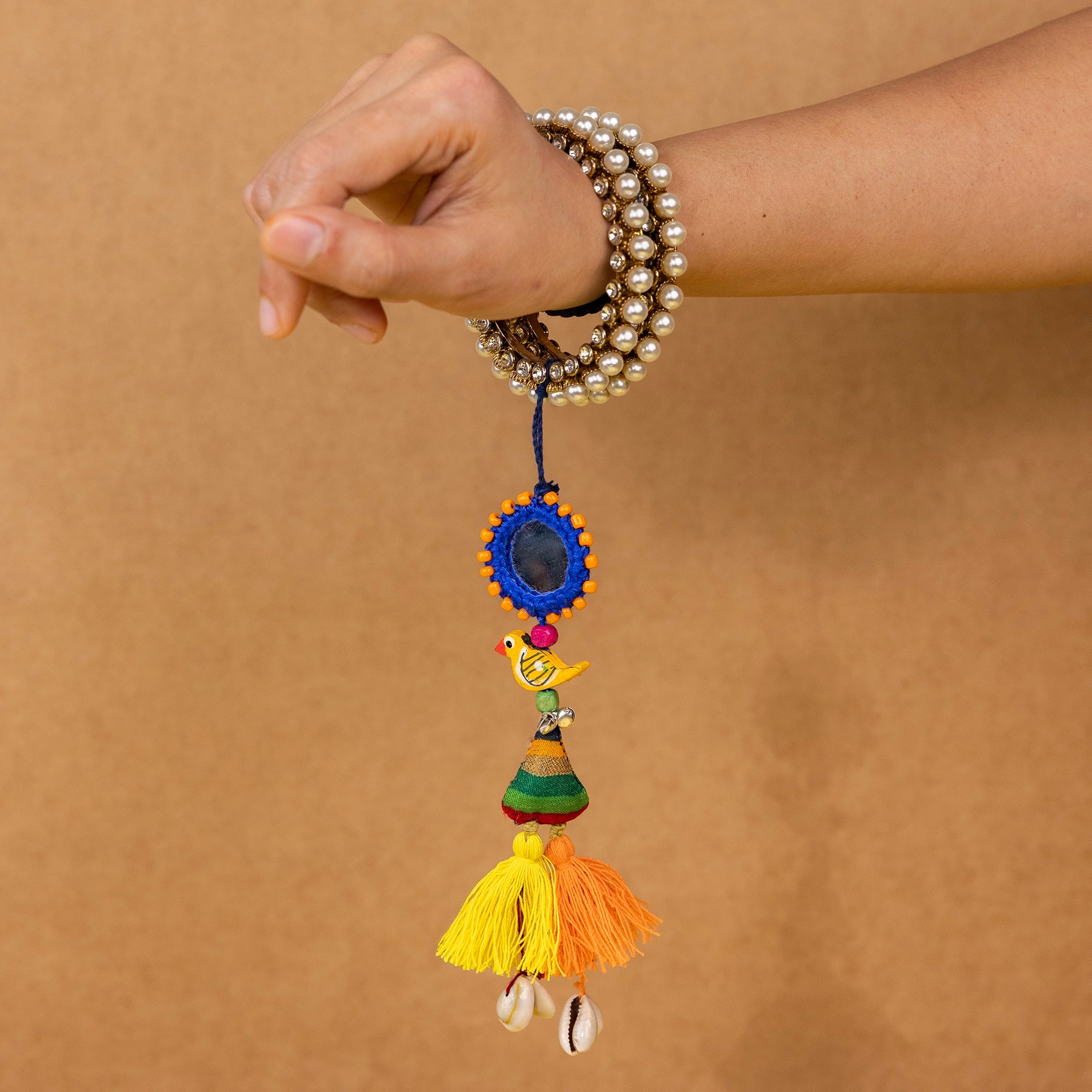 2. Jumbo
Rakhi Gift Box
by Phool: A Bundle of Joy
In the spirit of modern gifting, embrace the charm of Phool's Rakhi Gift Boxes. These meticulously curated assortments offer a delightful fusion of tradition and contemporary elegance. While this gift box is curated for sisters, it has everything that your Bhabhi will love too! With carefully selected inclusions such as Phool Bambooless Incense Sticks, Thela Gaadhi Shin Chan Socks, Ras Gold Elixir, etc, this gift box will be a delightful surprise for her. 
The things she'll absolutely adore in the Gift box:
1) Juicy Chemistry Face Wash 😎 - 100% natural and certified organic Tamanu, Kakadu Plum and Frankincense Face Wash
2) Phool Bambooless Incense Sticks - Jasmine 💞 - 3.5x thicker, long-lasting and an ideal way to make your home smell lovely and aromatic.
3) Thela Gaadi Shin Chan Socks 🧦 (2 pairs) - Quirky pattern, ankle-length, unisex, free-size, made from 100% pure cotton.
4) Phool Foot Soak - Frankincense & Lavender 🦵- One pack of foot soak (80 gms) infused with organic extracts of frankincense & lavender. 
5) Eat Better Jar - Chocolate Hazelnut Ladoos 😋- 100% natural, vegan, gluten-free, contain zero artificial flavours and preservatives.
6) Vahdam Tea ☕- Freshly harvested Hibiscus Rose Herbal Tea is a floral blend of 4 different flavors.
7) Ras Gold Elixir 🧴 - Lightweight moisturizing face serum packed with the finest botanical oils and extracts to brighten, repair and nourish her skin.
Isn't that amazing?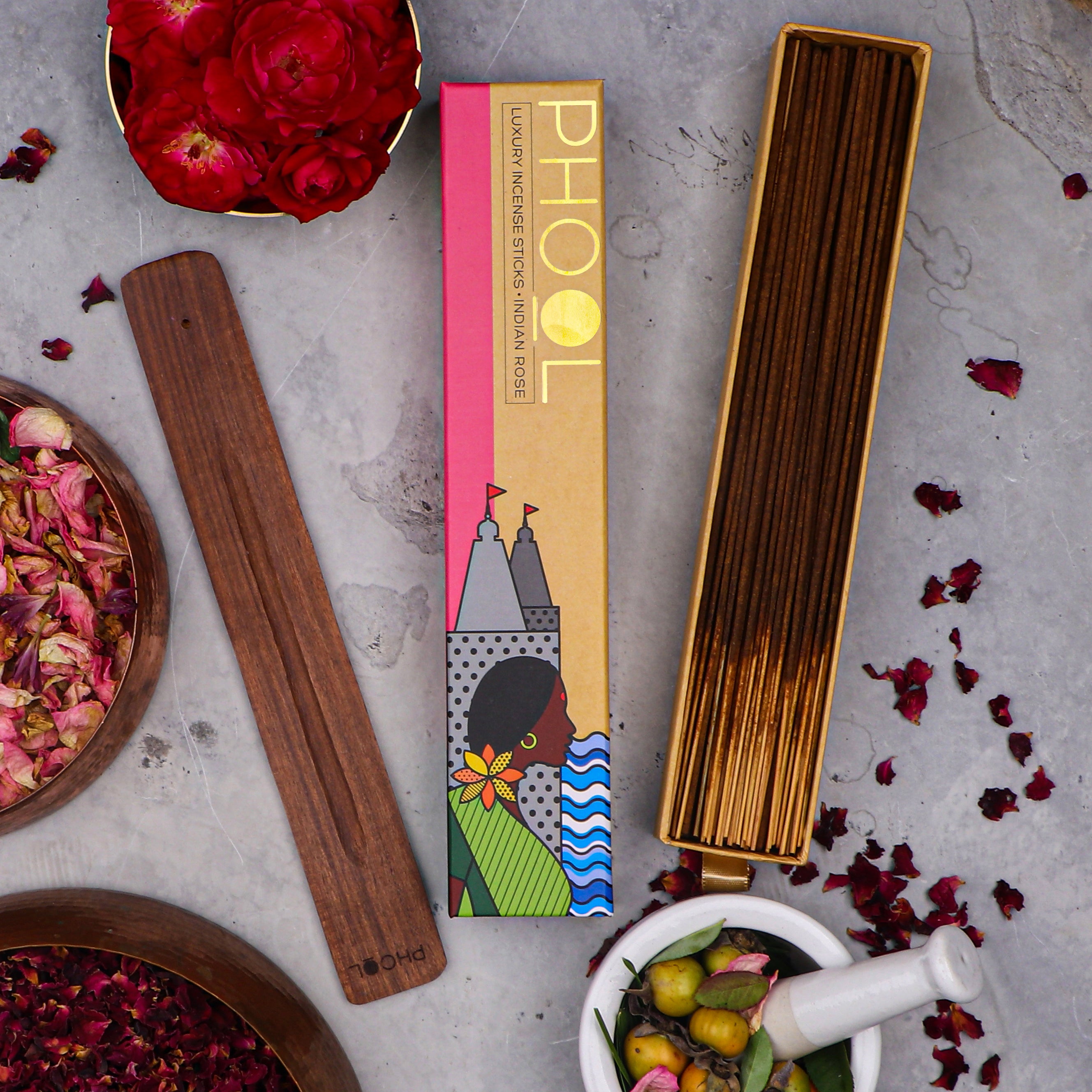 Let the scents of soothing incense sticks and cones envelop your beloved sister-in-law in an aura of relaxation. Each incense stick and cone releases fragrances that have the power to elevate the mood and create a tranquil environment. Whether she prefers the invigorating notes of citrus or the calming embrace of lavender, the array of scents available will cater to all her preferences.
Each Phool Natural Incense Sticks pack consists of 40 units, handrolled by flowercyclers and has a burning time of 40-45 minutes.
Gift her the essence of holistic well-being with a collection of premium essential oils. The therapeutic properties of Phool essential oils cater to her mind, body, and soul, allowing her to immerse herself in the bliss of self-care. From the invigorating aroma of peppermint to the gentle embrace of cedar wood, each essential oil carries the promise of relaxation and care.
The gift of self-care goes beyond the physical; it embodies the notion that she deserves to feel cherished and cared for. From moisturizers to fragrant baths, these essential oils encourage her to embrace moments of relaxation and rejuvenation.
5.
Candles
: Illuminating the Path of Serenity
The soft glow of candles has a way of creating a serene ambience that soothes the senses and uplifts the spirit. Consider gifting your bhabhi a set of beautifully crafted candles that evoke tranquillity and warmth. The flickering flames will add a touch of enchantment to her surroundings, encouraging moments of relaxation and introspection. Each time she lights a candle, she'll be reminded of your thoughtful gesture and the light you bring into her life.
What is so special about Phool's Candle collections?
Unlike the toxic paraffin alternatives, Phool natural soy wax candles burn without releasing any carcinogens or pollutants. 
This Raksha Bandhan, let your gift speak volumes about the depth of your relationship with your beloved bhabhi. Whether you choose the elegance of Lumba Rakhi or the luxurious Phool Rakhi Gift Box, your thoughtful choice will undoubtedly resonate with her heart and express the significance of your connection.
Check out the Rakhi Collection…
Happy Rakhi…